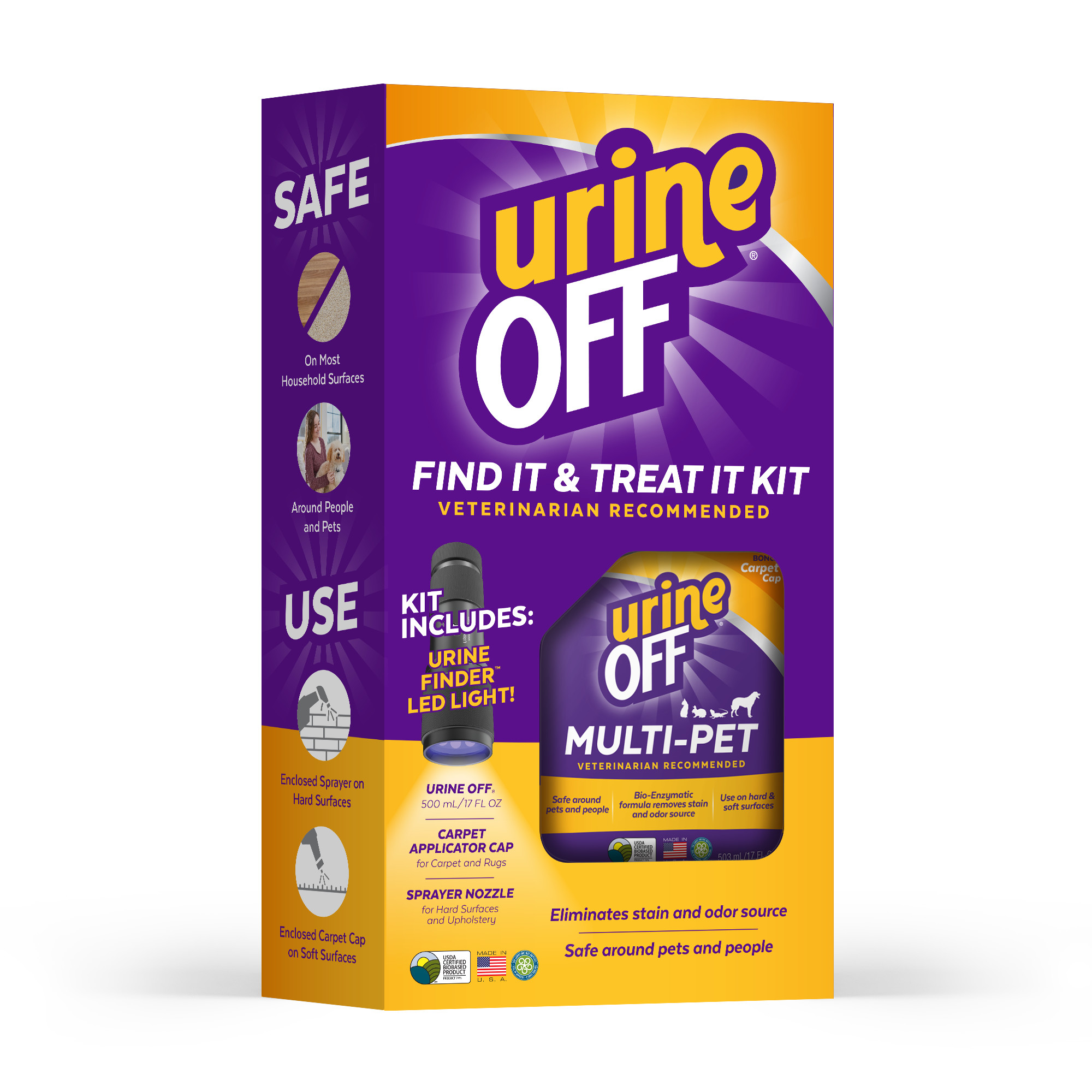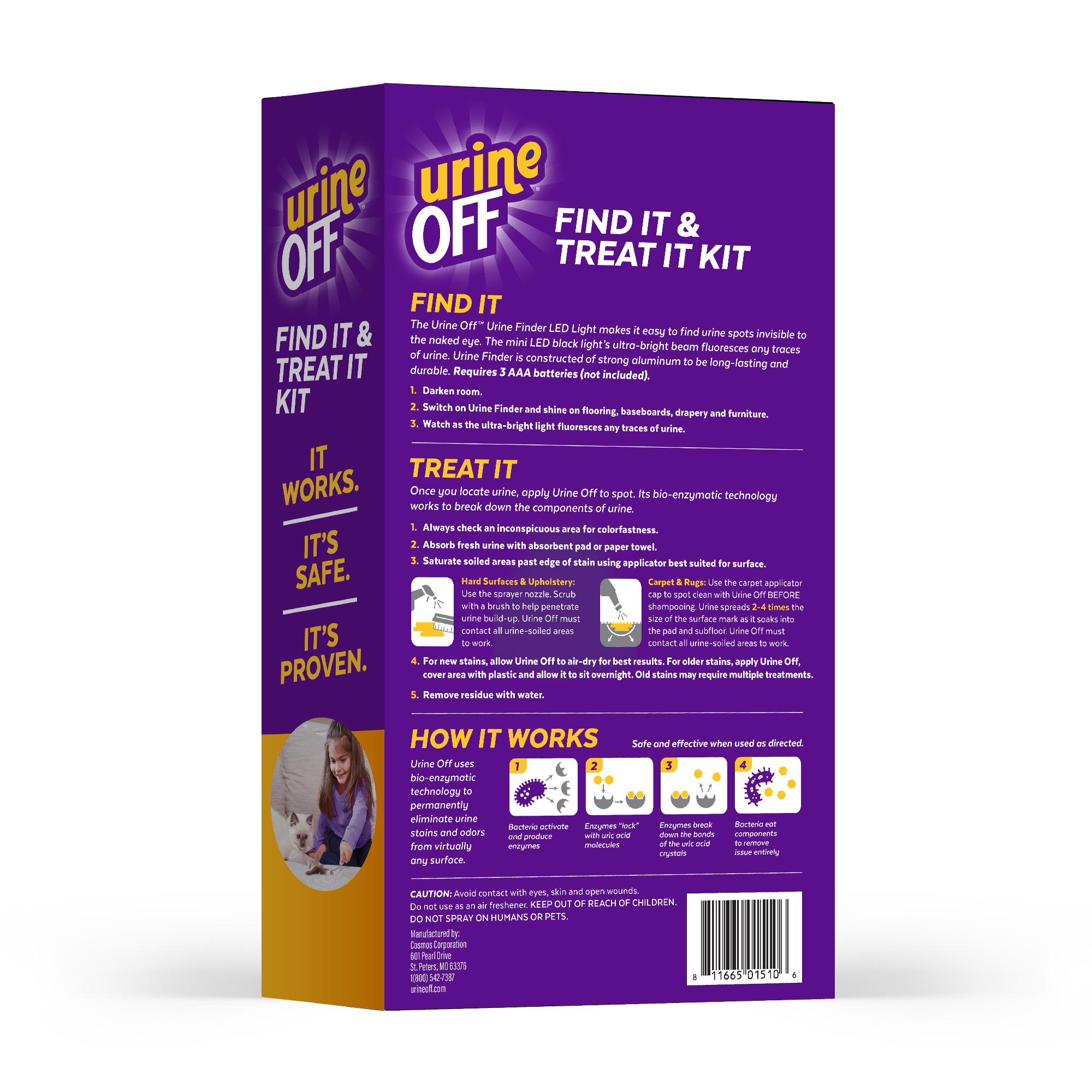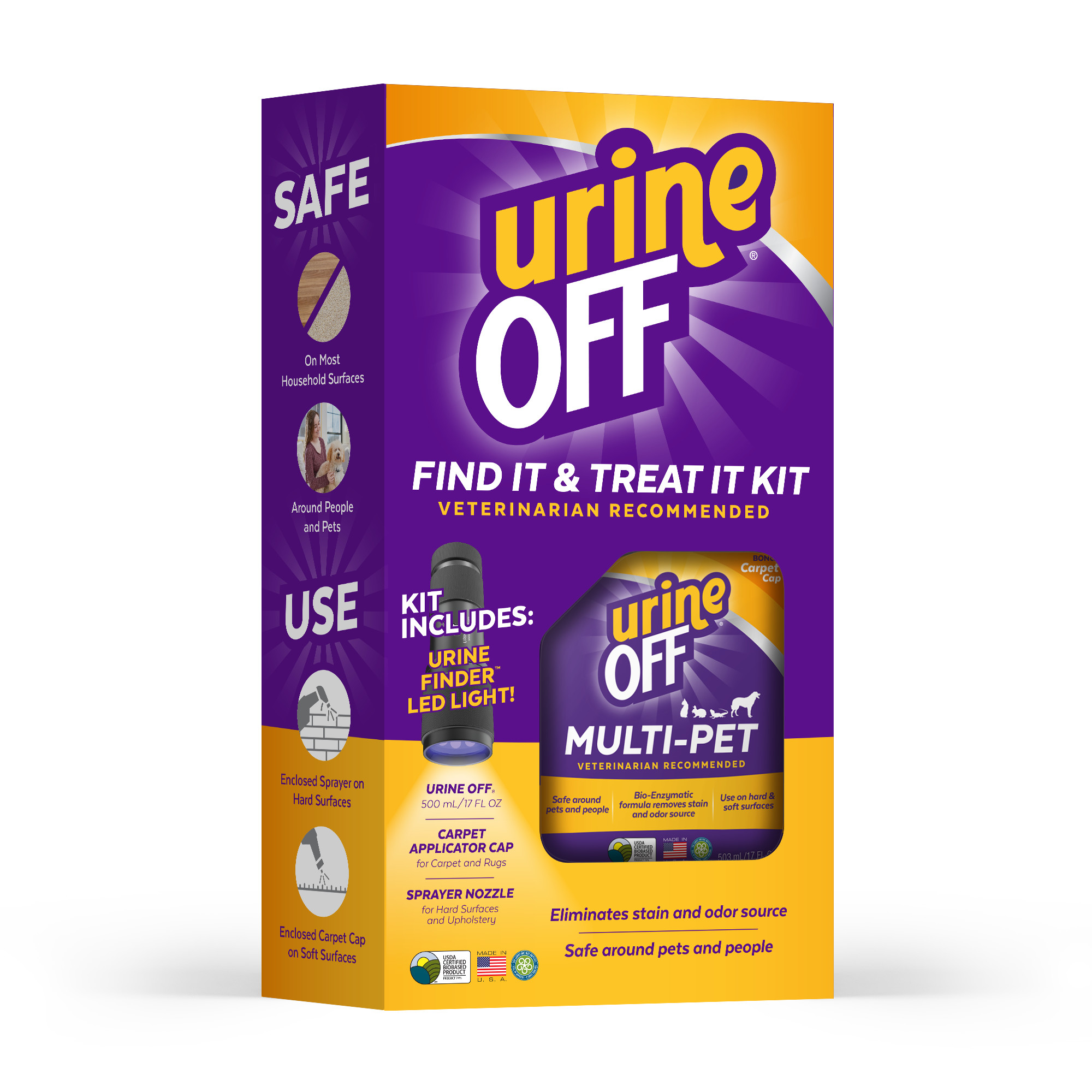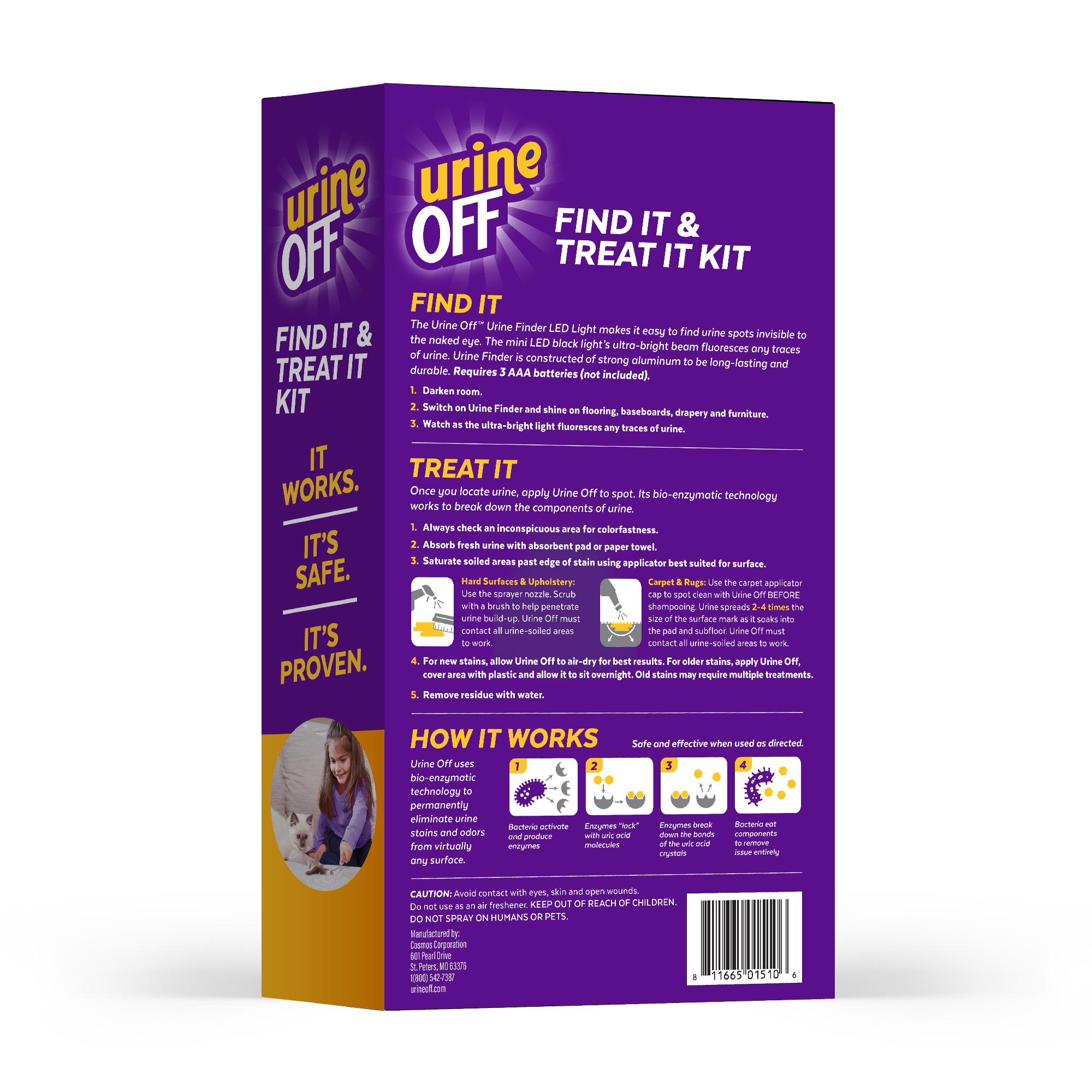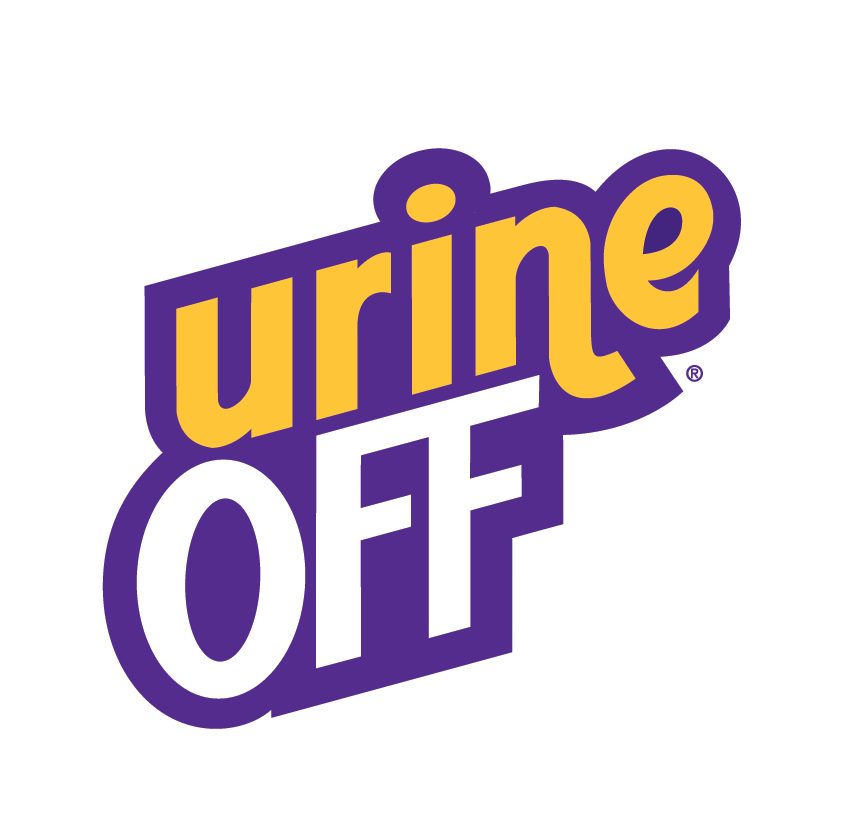 Multi-Pet Formula Find It & Treat It Kit
Urine Off Multi-Pet Formula is a veterinarian-recommended product for pet urine odor and stain removal. The Urine Off Hi-Power LED Urine Finder is the ideal tool for locating hard-to-find urine deposits. Most urine deposits are invisible to the naked eye until they collect soil, making them easy to see. Used together, the Urine Off Hi-Power LED Urine Finder and Multi-Pet Formula ensure every urine stain is found and permanently eliminated from virtually any surface. Urine Off is a USDA Certified Biobased Product and holds the Carpet and Rug Institute's Seal of Approval. Urine Off is safe to use around pets and people.
ELIMINATES STAINS & ODORS – Bio-enzymatic technology directly targets urine to remove stains and odors.
NON-TOXIC FORMULA – Urine Off is safe to use around pets and people, when used as directed.
FRESH SCENT – Leaves surfaces smelling fresh and clean.
USDA CERTIFIED BIOBASED PRODUCT – Certified by the USDA as a 74% biobased product.
CARPET AND RUG INSTITUTE SEAL OF APPROVAL – Ensures product is safe for use on rugs and carpets.
Urine Off uses bio-enymatic technology to permanently eliminate urine stains and odors from virtually any surface.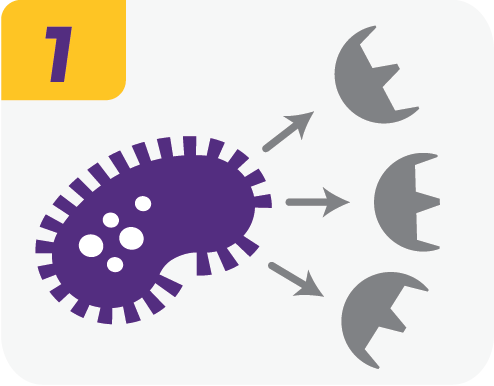 Bacteria activate and produce enzymes.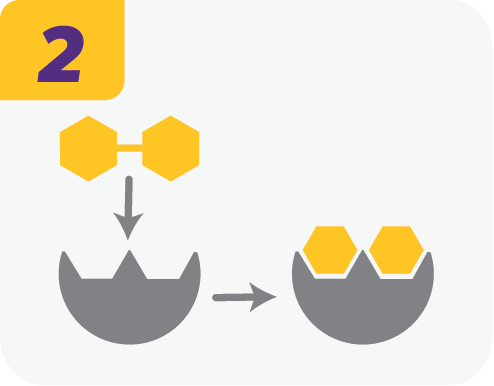 Enzymes "lock" with uric acid molecules.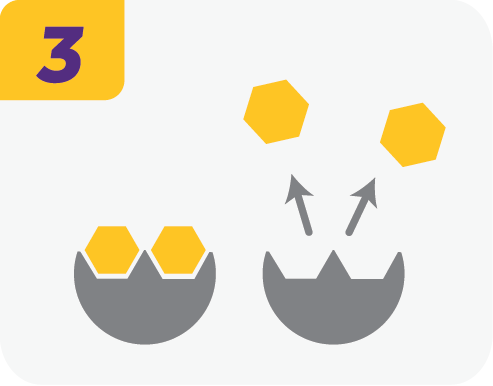 Enzymes break down the bonds of the uric acid crystals.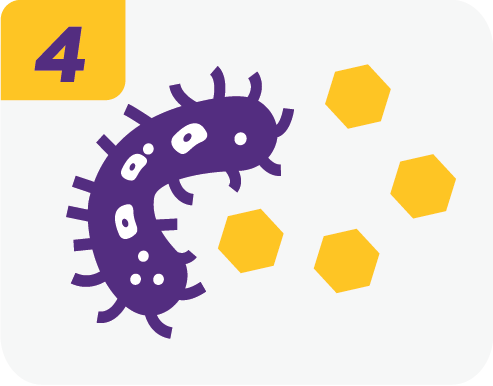 Bacteria eat components to remove issue entirely.
Directions for Urine Off® Urine Finder™ Light: Begin by darkening the room. Switch on Urine Finder and shine on flooring, baseboards, drapery and furniture. Watch as the ultra-bright light fluoresces any traces of urine.

Directions for Urine Off Formula: Before use, always check an inconspicuous area for colorfastness. Absorb fresh urine with an absorbent pad or paper towel. Saturate soiled areas past the edge of the stain using an applicator best suited for the surface. For hard surfaces and upholstery, use the sprayer nozzle. For carpets and rugs, use the carpet applicator to spot clean. For new stains, allow Urine Off to air-dry for best results. For older stains, apply Urine Off, cover area with plastic and allow it to sit overnight. Old stains may require multiple treatments. Remove residue with water.